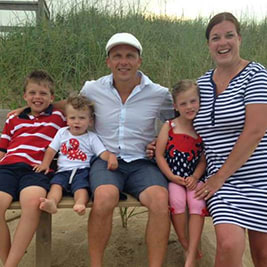 Sebastian Cervar
While born in Croatia, Sebastian has been residing in USA since 1999. He's fitness career unofficially began back in 1986 when he bought his first anatomy/physiology book. He has been working in Winston-Salem as a CPT since 2006. In 2008, armed with the idea of the "American dream", Sebastian opened his first fitness facility and has been a small business owner ever since. Currently, Sebastian owns CrossFit Amplitude and Core Performance Training and employs 9 independent contractors/trainers and a full time CrossFit coach.

During his lifetime Sebastian was a competitive soccer player, an internationally competitive judoist, a marathon competitor including Boston and has competed in several triathlons. Sebastian's motto is "Challenge yourself and be all you can be".
He believes in continuous research and implementing new knowledge into his workout ideology and methodology. Performance training in any sport is where he thrives. Sebastian had a privilege to work with many high school, collegiate and age group/masters athletes in several sports while helping them achieve pinnacle of their athletic careers. Notably, he worked with Olympic gold medalist swimmer Kathleen Baker.

Special Education: In 2009 Sebastian had a privilege of attending a private swim team strength and conditioning program at the University of Michigan, which was led, by Head Coach Jim Richardson and creator of the program Mr. Vern Gambetta, MAPhysEd(Stanford)

Special Coaching: Sebastian was a strength and conditioning program coach for a Forsyth Country Day and RJR High Schools swim teams for three years.

Education:
CrossFit - Level II
USATF - Level I
USAW - Level II
NASM - CPT
MWOD/TRS - Movement and Mobility Specialist Level II
IIN - Integrative Nutrition/Holistic Health Coach (graduating October 2020)